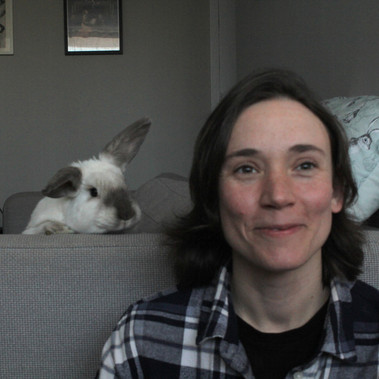 Hi, I'm Kate! I live in Toronto, Canada with my husband Spencer and our friend Rumsey who is a rescue rabbit.
Making pictures has been a consistency in my varied life. My work is inspired by nature, animals and stories. I have a particular love of rescue rabbits.
I spent almost a decade working in a tattoo shop as a receptionist, apprentice and then tattoo artist. I feel like even though I attended art college I really learned how to draw in the tattoo shop from the talented artists I worked with.
I attended University for Biology and Environmental Science after I retired from tattooing, and I enjoy going on nature walks and identifying the plants and animals around me.
Over the last few years I have been working on developing my illustrations and painting skills. I mainly paint in watercolours and gouache on paper. I'm very happy to take commissions and paint animal companion portraits.
Please contact me at:
You can also follow my latest work on Instagram @katedaviesmakes and buy my art prints, cards and stickers at https://katedavies.myshopify.com/